Lease Renewal Center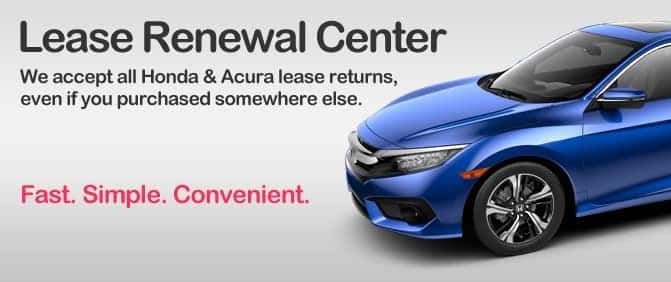 Is your lease coming to an end? Want to know all your options?
Wilde Honda Lease Maturity Center is here to help you make the best decision about what to do when you are ready for your new car. Many Wilde Honda customers are able to trade in their lease vehicle prior to the lease term ending! This is achieved by the market demand for quality pre-owned Honda vehicles at Wilde Honda. 
If you decide to trade your current lease vehicle in early you may be able to upgrade to a new Honda from Wilde Honda at the same or lower monthly payment. We are currently looking for leased Civics, Accords, CR-Vs, Odysseys and Pilots and are paying top dollar for these vehicles. 
If your lifestyle has changed, we can accommodate your adjusted needs to a vehicle that is more suited to you. Whether it's a larger car for an expanding family or a fuel-efficient vehicle to allow for a longer commute at a new job, we can work with you to switch your current lease to a more realistic option for you.  
Option 1: Lease or Purchase A New Honda
Fast. Simple. Convenient. Schedule an appointment to bring your current car in for an equity analysis so that the Wilde Honda Lease Renewal Center can give you the most cost efficient upgrade options for your new Honda.
Did you know? Wilde Honda Lease Renewal Center Specialists may be able to get a new vehicle for you for even less of a monthly payment and turn in your car anywhere between 0-12 months early.
Option 2:  Purchase Your Current Vehicle
If you decide to buy your Honda, there is no need to worry about a vehicle inspection or excessive wear or mileage charges. Wilde Honda's award-winning finance team will help you find the best financing options possible.
Option 3:  Return Your Leased Vehicle
Your lease concludes when you turn in the vehicle to Wilde Honda. Honda leasing includes an Excess Wear and Use Waiver, but you will be responsible for any wear or use that exceeds the waiver. Plus, you will be responsible for any outstanding payments, excessive mileage, and any other outstanding obligations specified in your lease agreement.
Please schedule an appointment to return your vehicle to Wilde Honda. 
Once your vehicle return appointment scheduled, please be sure to bring the following items:
 – Person who's name is on the lease
 – Photo I.D.
 – Leased vehicle
 – All keys 
 – Honda Owners Manual 
 – Lease payoff amounts 
 – Receipts for completed repairs